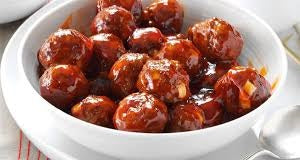 Sweet & Tangy BBQ Meatballs
Ingredients
1 large egg, lightly beaten
6 oz of evaporated milk
2 tbsp Worcestershire Liquid Smoke
1 cup quick-cooking oats
1/2 cup of finely chopped onions
1 tbsp salt
1 teaspoon chili powder
1 tbsp garlic powder
1.5 teaspoon freshly ground pepper
1.5 lbs of ground beef
Sauce
1 cup ketchup
1/2 cup packed brown sugar
1/4 cup of finely chopped onions
2 tbsp Worcestershire Liquid Smoke
1 teaspoon garlic powder
2 tbsp white vinegar
Instructions
1. In a large bowl, combine the first 9 ingredients. Then put mixture into ground beef and mix well for about 3-5 minutes. Make sure to really incorporate the two.
2. Roll and shape into 1-1.5in balls
3. Place meatballs in a greased baking dish
4. Bake, uncovered at 350 degrees F for 20-22 minutes or until meat is no longer pink; drain excess fat
5. Combine the sauce ingredients into a saucepan. Bring to a boil and then reduce heat to low and simmer for 2 minutes, stirring frequently.
6. Pour sauce over meatballs and bake for an additional 10 minutes then broil for 3 minutes on high (watch carefully so sauce does not burn)