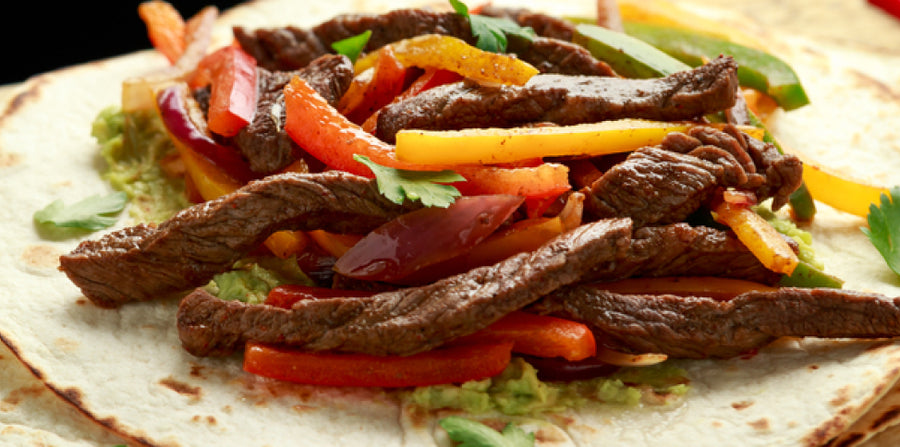 Prep: 1 ½ Hours
Servings: 4
Nutritional Information:
Fat Grams: 6
Sodium Milligrams: 57
Cholesterol Milligrams: 48
Ingredients
Salsa
1 cup tomato chopped
½ cup onion finely chopped
1 jalapeno pepper, seeded and finely chopped
1 tablespoon fresh cilantro
Marinade
¼ cup fresh lime juice

2 tablespoon ¼ cup COLGIN MESQUITE LIQUID SMOKE

2 tablespoon water

1 lb beef top sirloin steak, 1 inch thick, cut into 3 X ¼ inch strips

4 flour or corn tortillas

1 cup red and green pepper strips

1 small onion, cut into 8 wedges

¼ cup sour cream
Instructions
Place half a cup of the tomato in a food processor or blender. Process until smooth. In a small mixing bowl, combine processed tomato, remaining ½ cup tomato and remaining salsa ingredients. Cover with plastic wrap. Chill. Combine all marinade ingredients. Place steak into the marinade, stirring to coat. Cover the dish with plastic wrap. Chill. Heat oven to 325 degrees. Wrap tortillas in foil. Bake them for 7-8 minutes or until tortillas are warm. Set aside, leaving tortillas wrapped in foil to keep warm. Drain and discard marinade from the steak. Heat nonstick skillet over medium-high heat. Add steak, pepper strips and onion. Cook for 3½-5 minutes or until meat is no longer pink and vegetables are tender-crisp, stirring frequently. Drain and serve.
Utensils:
Blender

Mixing bowl

Foil

Non-stick skillet